Three breast cancer patients have undergone pioneering proton beam therapy for the first time on the NHS as part of a world-first trial.
The hi-tech treatment targets tumours far more precisely than conventional radiotherapy, suiting patients with difficult-to-treat growths in critical areas. The NHS has previously used proton beam therapy to treat patients with tumours in and around their brain or spinal cord.
The trial, the first of its kind globally, will compare proton beam therapy with standard radiotherapy for patients who are deemed at higher risk of long-term heart problems after radiotherapy treatment.
"There is untapped potential in proton beam therapy, potentially reducing the risks of side-effects following cancer treatment," said Prof David Sebag-Montefiore, former chair of the National Cancer Research Institute's clinical and translational radiotherapy research working group.
Kim Jones, a school caterer from Ely, is the third patient to undergo proton beam therapy for breast cancer as part of the trial on the NHS. She was diagnosed in February after noticing some thickening of the skin and painful twinges in her left breast.
Jones, 44, was referred to Addenbrooke's hospital in Cambridge, where she had chemotherapy followed by a mastectomy and lymph node removal. She was later accepted to the Parable trial, and successfully completed her proton beam therapy at the Christie hospital in Manchester last month.
"When I was told that I'd been accepted on to the trial, I felt very lucky to have the opportunity to get this treatment," said Jones. "I was told I might be suitable to participate in the Parable trial as it would potentially benefit patients with a high risk of long-term heart complications. As I already had an issue with my heart, the trial seemed like a great idea."
Jones described the treatment, in which doses of high-energy charged particles from the centre of atoms, called protons, were used to precisely target her cancer as "superb" and "very relaxing".
Doctors involved in the trial will determine whether proton beam therapy can help deliver adequate doses of radiotherapy to the breast while at the same time minimising radiation around the heart.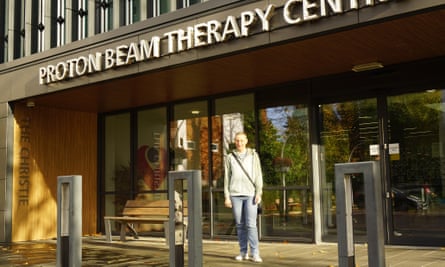 The trial will enrol 192 patients across 22 sites in the UK. Patients allocated to receive proton beam therapy will be treated at either the Christie or University College London hospitals, with accommodation provided for those who are travelling far from home.
The trial is being led by medics, scientists and researchers at the University of Cambridge, the Institute of Cancer Research, London (ICR) and the Royal Marsden NHS Foundation Trust.
Prof Judith Bliss, director of the Cancer Research UK-funded clinical trials and statistics unit at the ICR, which is managing the trial, said: "Radiotherapy is a very effective part of treatment for breast cancer that helps to lower the risk of cancer returning and has been shown to improve survival.
"However, effectively delivering standard radiotherapy can be difficult when the patient's breast tissue and lymph nodes are located close to their heart, or they are already at risk of heart problems."
Every year in the UK about 30,000 breast cancer patients receive radiotherapy following surgery as part of their treatment.
Radiotherapy is very effective for the vast majority of patients and the benefits outweigh any side-effects. However, there can be a very small risk of it leading to heart problems much later in life – less than 1% of all those treated.
The risk of heart problems later in life due to radiotherapy may be higher than 1% for a very small group of breast cancer patients. Typically, this is because their breast tissue and the lymph nodes that require radiotherapy are located close to the heart, or because they already have heart issues, like Jones, or a higher risk of heart problems later in life.
"Although only a very small group of people are affected by a higher risk of heart problems later in life, it can still be a serious issue," said Prof Charlotte Coles, professor of breast cancer clinical oncology at the University of Cambridge.
"Standard breast radiotherapy is really effective for most people with very few side-effects, but there is a small group of patients for whom proton beam therapy may be a better option," said Coles, a consultant oncologist at Addenbrooke's and the trial's chief investigator.
Patients predicted to have a 2% or higher potential lifetime risk of heart problems from radiotherapy will be invited to take part. About 500 out of every 30,000 people who receive radiotherapy for breast cancer fall into this category.
Proton beam therapy has been used in other countries to treat breast cancer, but numbers in these trials have been small and there have been no reported trials that directly compare proton beam therapy with standard radiotherapy.
"The UK is leading the way," said Prof Jonathan Wadsley, national specialty lead for radiotherapy and imaging at the National Institute for Health and Care Research, which is funding the trial.