Three years ago, Lifestyle announced to readers that the next big thing in women's tennis was a prodigy from Delray Beach ranked No. 67 in the world (in singles) at the time. Coco Gauff, only 15 when we featured her on the cover of our February 2020 issue, had just won her first WTA singles tournament the prior October in Austria. She'd also generated buzz during the summer of 2019 by reaching the round of 16 at Wimbledon and the third round at the U.S. Open.
But it wasn't just her on-court exploits that led us to suggest the best was yet to come for Coco. When we met at Delray Beach Tennis Center for the cover story, I invited her parents, Corey and Candi, to join us at a table just outside the stadium—assuming they'd want to sit in on an interview with their teenage daughter. They politely declined. They had complete trust that Coco could handle herself.
They were right. At 15, she already demonstrated poise, wisdom and worldliness beyond her years.
Those qualities were all on display this weekend in New York, when Coco Gauff, now 19, hoisted the champion's trophy after winning the women's singles title at the U.S. Open. After defeating No. 2 seed Aryna Sabalenka in the final—2-6, 6-3, 6-2, Coco's third win of the tourney after dropping the first set (her idol, Serena Williams, who did it at age 17 in 1999, is the only other player to win the Open in that fashion)—she spoke eloquently about her family, her journey and the people who didn't believe in her. In fact, she thanked them.
"Those who thought they were putting water on my fire, you were really adding gas to it," Coco said.
Though she's accustomed to the spotlight, collecting her first Grand Slam title comes with next-level expectations and responsibilities. But, as we learned back in 2020, Coco Gauff is ready to meet the moment—both on the court and off it.
This Editor's Letter originally appeared in the February 2020 issue of Lifestyle.
Coco Gauff's father always told her that she could change the world with her racket. And, now, here she was, making good on that prophecy yet again, playing to a captive audience in the Bahamas. The teen phenom, on the cusp of becoming the next big thing in women's tennis, had traveled to Nassau last November [2019] for a charity tournament that raised money for families still reeling in the aftermath of Hurricane Dorian.
But it was an episode separate from the main event where Coco made an even more lasting impression, hitting balls with and imparting nuggets of early wisdom to dozens of local children, who reveled in the chance to stand on the same court as their hero.
"Even when I was young, I felt like I wanted to be more than just a tennis player," says the Delray Beach resident. "I've been thinking a lot about how I can help to change at least a little part of the world."
It's insights like these—from the thoughtful mind of someone who turns 16 next month—that ultimately may distinguish Coco as much as her prodigious talent and sky's-the-limit future as a tennis player. Even at 15, she possesses self-awareness and big-picture sensibilities about the world around her.
Coco picks her spots to educate and spread the word about everything from black history and climate change to the mental health issues that plague her generation. During her exclusive interview with Lifestyle, she notes that the rates for teen suicide and depression have gone up for her age group. "It's not all because of social media [bullying and negativity], but that plays a big part," Coco says. "We have to break that."
She also understands that playing professional tennis comes with responsibilities—especially when so many youngsters look up to you, the same way that she looked up to her heroes, Serena and Venus Williams.
"As early as [age] 7, I felt that I was working toward something," Coco says. "Tennis gives me a platform, and people pay attention to it. I appreciate that.
"Hopefully, I can use that to do good things."
She already is.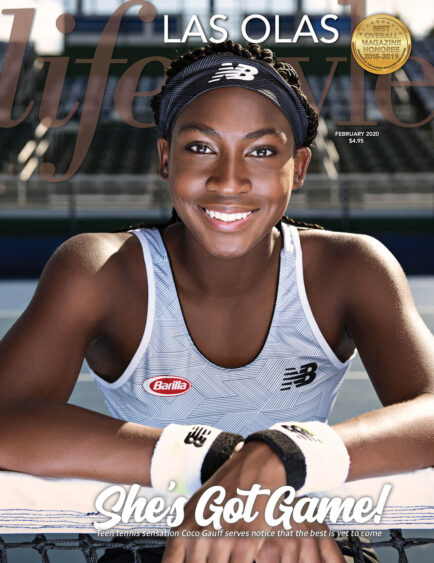 Photography by James Woodley; Coco pictured with the Group Editor at Delray Beach Tennis Center; Coco on the February 2020 cover of Lifestyle